Heat up Opals in Microwave ! ? (5)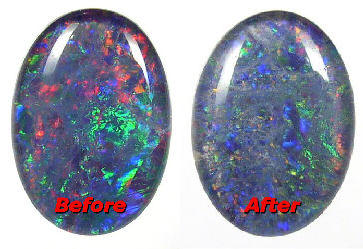 Here's my theories from experiment.
---
Result in Solid Opals
Nothing seems to be changed by viewing or touching them. In general, White Opal contains higher percentage of water. So many people think that it needs to be avoided in extreme heat or needs to dip in water occasionally to keep its best condition, but this experiment has approved that you should not be too sensitive about it.
Result in Doublet / Triplet Opals
A change in Triplet Opal was amazing ! The quality of Triplet Opal I've selected for my experiment here is a clear domed plastic, which covers a very thin layered of solid opal, that sits on top of black plastic base by a special dark glue. This clear domed plastic not only does it protect the opal, it magnifies the intensity of colour and pattern, greatly enhancing the overall appearance of the stone. By having a dark glue and a black plastic underneath a thin layeres opal, it will look like a valuable solid Black Opal. These can be easily found in souvenir, gift store, tax free store and any other opal store. Here, I can see that the glued part has transformed into white.
On the other hand, Doublet Opal did not show any changes.This Doublet Opal is made from a thin layer of sliced opal, cemented on top of an ironstone, which in much thicker and more stable quality compare to the Triplet. The result might be different if the backing was a common plastic (instead of ironstone). I'd like to experiment on Doublet opal with a plastic base and find out more about this next time !
So how was that ? This experiment was just one of the idea came up to my mind, and I hope it has given you some meaning to it.
Opals, especially Black and Boulder opal is not as fragile as most people think. Cleaning opal is also very simple, just wipe off the dusts by some dry cloth or tissue. There in no need to soak your opal in liquids to stabilize it as well. Just wear it like other jewelleries and enjoy as often as you can !!
---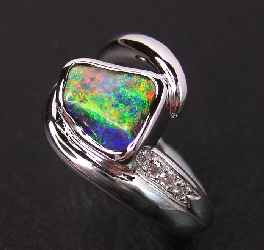 Incase, please do not experiment this at your home with your quality opal.